Booking & Contact
Email: jblues@briefcaseblues.com

U.S. Phone:

214-324-0768

"The band…THE BAND!"
- Jake
YES!! Briefcase Blues IS a BIG BAND!

A musical act, a show with LIVE MUSICIANS – first and foremost. Call us for the cost of your proposed show – each one is different, and the details of where & when are just the beginning (ya ain't buying a can of tomatoes here)…
1. THE WHOLE BAND: Jake and Elwood with a full band: bass, guitar, drums, keyboards, tenor sax, trumpet, trombone and baritone sax. A stage full of sound – and each show is tailored to fit any event or audience.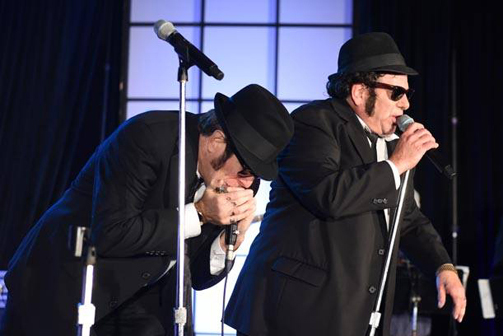 2. CHARTED SHOW: When travel costs are a budgetary concern, BRIEFCASE BLUES can contract musicians anywhere in the world to act as our band … because we have the fully-written music charts for all the above listed instruments. We hire the players locally – and put out a bulletproof show – by flying in just "Jake and Elwood".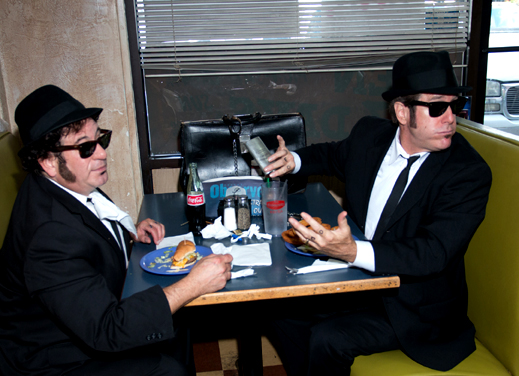 3. TRACK SHOWS: When space, budget (or other factors) make it unworkable to have a whole band there, "Jake" & "Elwood" can put on what is called a "track show" - pre-recorded backing band songs to which our two heroes can perform. The list of tunes (compared to a full band of musicians) is a bit more limited, but we've thrown some real corking parties with "just the tracks, ma'aam"…
3. CORPORATE VIDEO: We've done them WITH music and WITHOUT – in conjunction with a live-on-location performance or otherwise – but when it comes to ACTING OUT the parts of "Jake and Elwood Blues" to deliver a message, we got it DOWN pat – Click here to check out our Safe Auto video, or HERE for our Illinois Main Street Teaser.
BTW: We CAN write our own scripts, put the message YOU need into them – and have done TOTAL A/V to STAGE presentations that don't MAKE THE GRADE – we EXCEED expectations.
5. PRINT ADVERTISING: Name us what you will – we've been called the "Brews Brothers", The "BLUES BOYS" (yuck) and even … well, never mind. As we have said before (on the main page): you want two guys that look and sound like Jake and Elwood? Use your own ears and eyes – we portray the characters, not just wear the suits.
JUST GET WITH US. WE HAVE WHAT YOU NEED, AND WE CAN MAKE IT HAPPEN.
---